美人時計
懂錶的女人最美麗 ! 你必須follow的 @mainichi_watch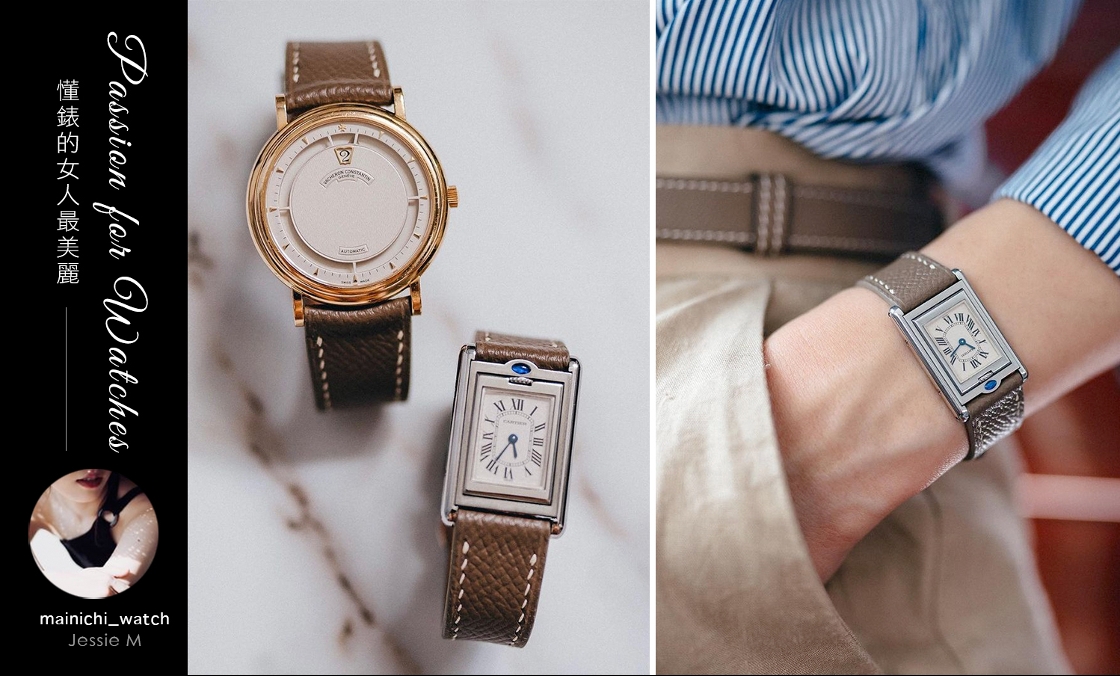 IG帳號:@mainichi_watch
自我介紹:
大家好,我是Jessie。我不擅長於文字表達,但樂意分享我喜歡的腕錶和穿著。我喜愛簡單優雅的東西。
Hello everyone, I'm Jessie. I'm not great with words but like sharing watches and outfits that I love wearing. Love simple and elegant things.
Q1: 妳是如何開始對腕錶產生興趣的?
How did you get interested in watches?

我對錶的興趣,始於2015年,看到安•海瑟薇在電影「高年級實習生」中戴著一只美麗的錶。我先生也是錶迷,他幫我找出那是卡地亞的坦克。我覺得那只錶優雅美麗。後來我先生送了我一只卡地亞坦克作為生日禮物,也是我的第一只高級腕錶。自那時起,我對腕錶產生興趣,一路收藏了幾只卡地亞和其他的錶。我真的很喜歡卡地亞的錶,各種形狀都一樣保持優雅。

My interest in watches started back in 2015 when I watched the movie "Intern" and saw Anne Hathaway wearing a beautiful timepiece. My husband is also into watches so I've asked him and research about it online and found out it was a Cartier Tank. I found it very elegant and beautiful. After a while my husband presented me a Tank as a Birthday present and it was my first High end watch. From then, my passion in watches has started and slowly added a few more Cartiers and other timepieces into the collection. I really like the way Cartier watches in odd shapes but still be very elegant at the same time.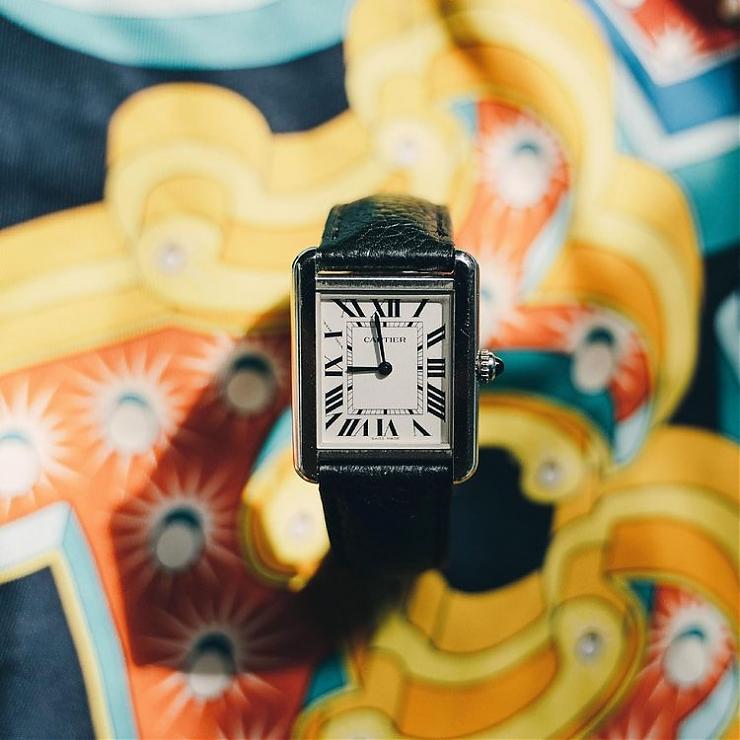 Q2: 哪一則IG貼文最能表達妳的風格?
Which of your IG post best represents your style?

這個問題不容易回答。我認為腕錶的選擇應該要搭配當天的穿著。我想我的風格是維持簡單,然後加上一個有點特別的東西。如果一定要用一張照片,那我選這張。因為我真的很喜歡百達翡麗的Ellipse,它的殼型和藍色面盤很漂亮。而且我也很喜歡這張照片中的咖啡和朦朧的意境,能代表我的風格。

This is a very hard question to answer. I believe the watch to wear on the day needs to match the outfit of what I'm wearing. I think my style is to keep it simple and have an extra touch of something special to match. If I really had to choose one, I would choose this picture because I really like the Patek Ellipse, the blue dial and shape is stunning, love coffee and the dreamy vibe in the picture kind of represent my style.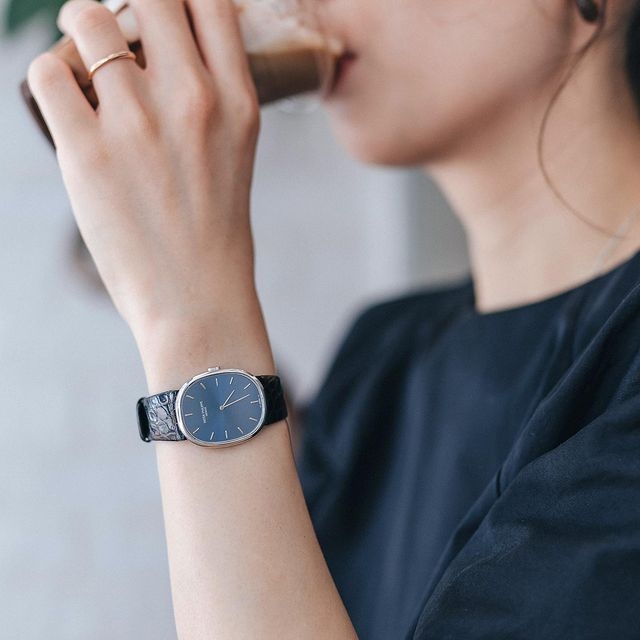 Q3: 妳覺得女性和男性的鐘錶愛好者有何不同嗎?
Have you found any differences between female and male watch lovers?

我認為是有不同的。比方說,我先生在選擇腕錶時,比較注重機芯、歷史、規格和外型,有時甚至是保值度。而我比較注重殼型和面盤顏色,也會考慮和服裝及其他裝飾品的搭配性。

I believe there are differences, for example my husband is more technical about movements, history, specs, looks and sometimes even values in choosing a watch. For me, I believe is more into the form of the case, color of the dial, and will think about which outfit and other accessories to match the watch with.
Q4: 對你的工作或生活來說,手錶代表什麼?
What do watches mean to your work and life?

很可惜的,我在工作時沒有辧法戴錶;但我依然很享受在通勤以及週末佩戴手錶的時光。要決定用哪只錶來搭佩衣服,其實蠻花腦筋的。腕錶是我和先生的共同興趣;我們喜歡在週末去尋寶,一起去看看錶帶,或是尋找拍照的靈感。我們也會互相交換錶來戴。

It's sad that I could not wear watches in my line of work, but I still enjoy wearing them in my commutes and especially on the weekends. It's a struggle to decide which watch to wear with the outfit. Watches are one of a common passion with me and my husband. We love to go treasure hunting in the weekends, look at straps together, find ideas for the next picture. We even share watches to wear together.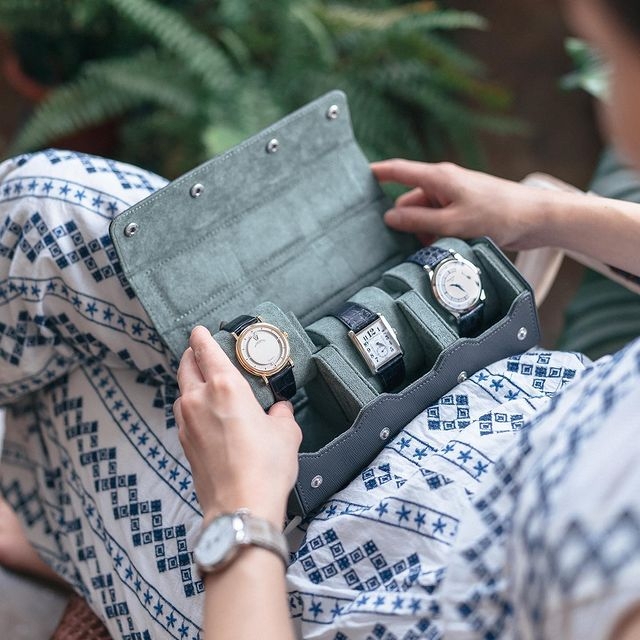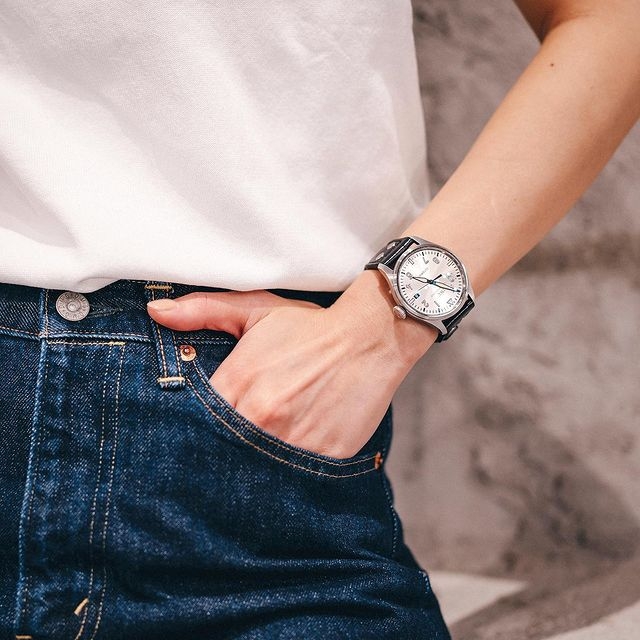 Q5: 妳最喜愛的錶是哪一只?為什麼?
Which is your favourite watch? Why?

目前我最喜歡的是古董的江詩丹頓跳時錶,它的面盤簡單又獨特。在和其他錶友碰面時,這只錶總是能引起話題。它的錶徑是我最喜歡的36mm,輪廓也很纖細。
入手這只錶的過程也是很難忘的。賣家也是一位女性的愛錶人;她並不想用較高的價錢賣給店家,反而選擇轉讓給我;因為她相信我會更加欣賞和珍惜這只錶。

My favorite watch at the moment is the vintage Vacheron Constantin Jump Hour. I find the dial is simple yet very unique. The watch is definitely a conversation starter when meeting other watch friends. It's also in one of my favorite dimension of 36mm and slim profile.

Acquiring was also quite memorable as the seller was a fellow lady collector and she did not want to sell it to a shop at a higher price but instead she chose me to sell it as she believes I will appreciate and cherish the watch more.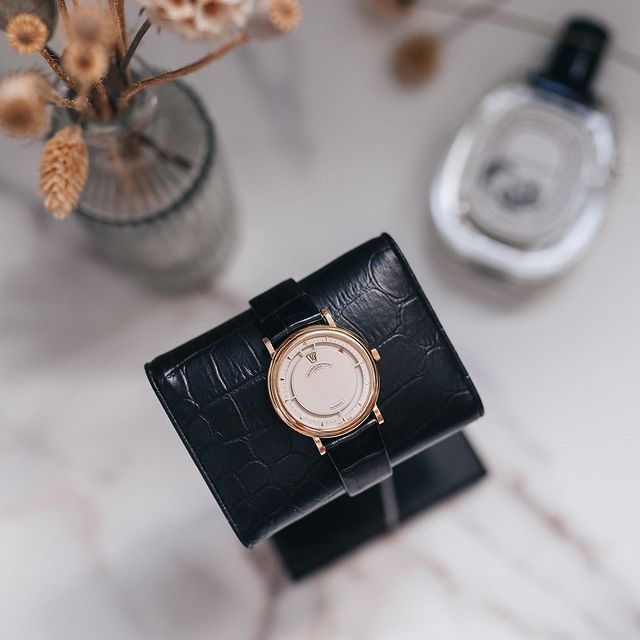 Q6: 身為一位女性的愛錶人,妳對鐘錶品牌和鐘錶業界,有什麼話想說呢?
As a female watch lover, do you want to say something to the brands and the watch industry?

希望他們能製造更多苗條一點的錶。我已經看到一些品牌發表較小錶徑的款式,但希望它們能更纖薄一些。我真的很喜愛錶徑36mm左右、厚度在10mm以下的款式。這樣的尺寸和比例,對我來說是剛剛好的。

I wish they could make more slimmer watches. I already see some watch brands releasing some smaller diameter watches but hope that they could make them slimmer. I really like the watches that are around 36mm and under 10mm thick. I find these dimensions to be just the right proportions.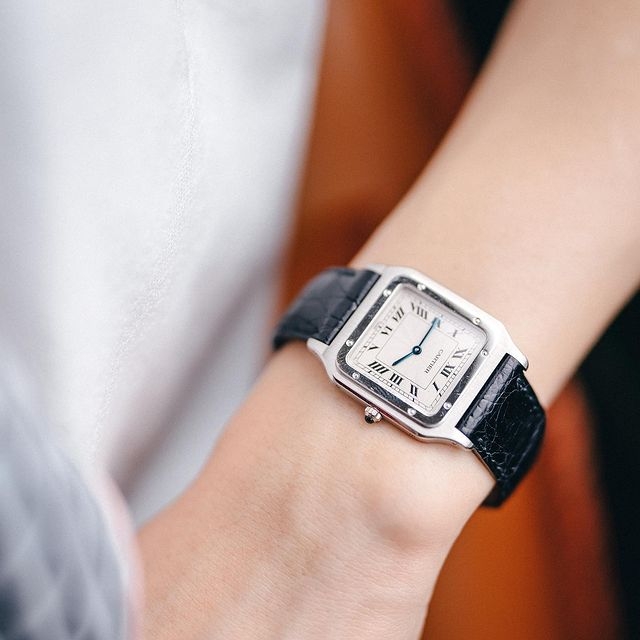 Q7: 除了手錶,你還有其他的興趣嗎?
Do you have other hobbies besides watches?

我還喜歡做陶藝。在專注做陶藝時,我不會去想其他事情。這讓我從壓力中得到舒緩釋放。

I really like throwing pottery aside from watches. Throwing pottery lets me just focuses on making the pottery and not have to think about other things. Calms me from any stresses.