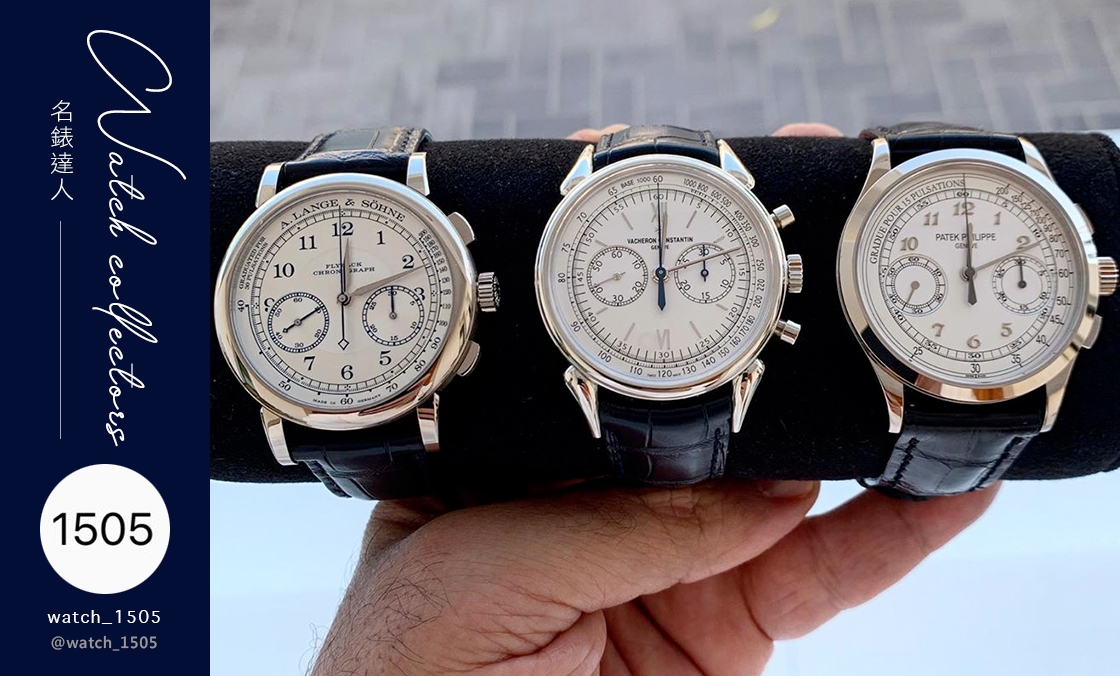 古時有孟母三遷,現代有人為了學區而搬家。這次受訪的@watch_1505,則是因為在瑞士讀大學,而產生了對鐘錶的興趣,也建立起相當可觀的收藏。
IG帳號: @watch_1505
Followers:9.7K
自我介紹:
我對手錶的熱情,始於1978年在瑞士讀大學金融系時,探索日內瓦這個城市。它匯聚了許多歷史悠久、聲譽卓著、技藝精湛的鐘錶品牌。日內瓦的自由氛圍,吸引了全歐洲的財富、知識和才華;讓日內瓦及其周遭地區,成為發揚報時技術與工藝的極佳環境。
The watch passion begun during my university finance studies in Switzerland 1978, while exploring the place heritage in hosting oldest recognised manufacturers of watchmaking craftsmanship at "Geneve", which historically became wealth, knowledge and skills attraction from all over Europe due to its religious freedom nature, an environment that promotes dedication workmanship and artisan of time reading at Geneve and its surround workshops.
Q1. 透過你的貼文,你想傳達什麼訊息?
What message would you want to convey through your post?
對每一個人而言,時間都是珍貴的元素。以微型機械的型態來精準呈現各種不同的時間概念,例如太陽與月亮的活動、天文、不同城市的時區、物體移動的速度、日出日落等等,是極具挑戰性的。唯有好的製錶人,才能滿足收藏家的渴望。
Time is a precious element to everyone. Time reading accuracy in micro-mechanical form is more challenge to make as it beside time reading simulates sun & moon movements, astronomy, time zone at different cities, reading a moving body speed in specific time, sun rise & sunset timing ..etc. Only Great watch makers can satisfy the desire of a collector.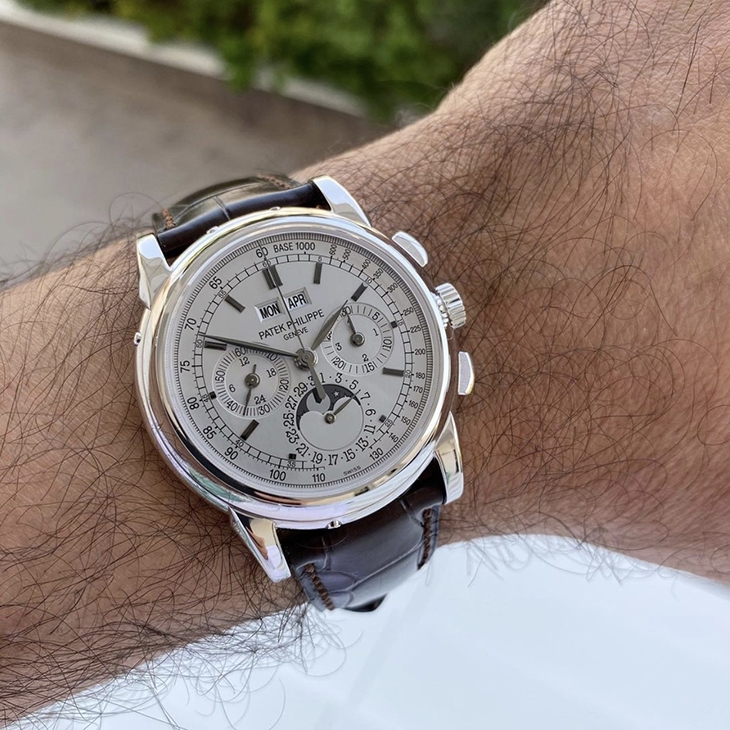 PATEK PHILIPPE 5970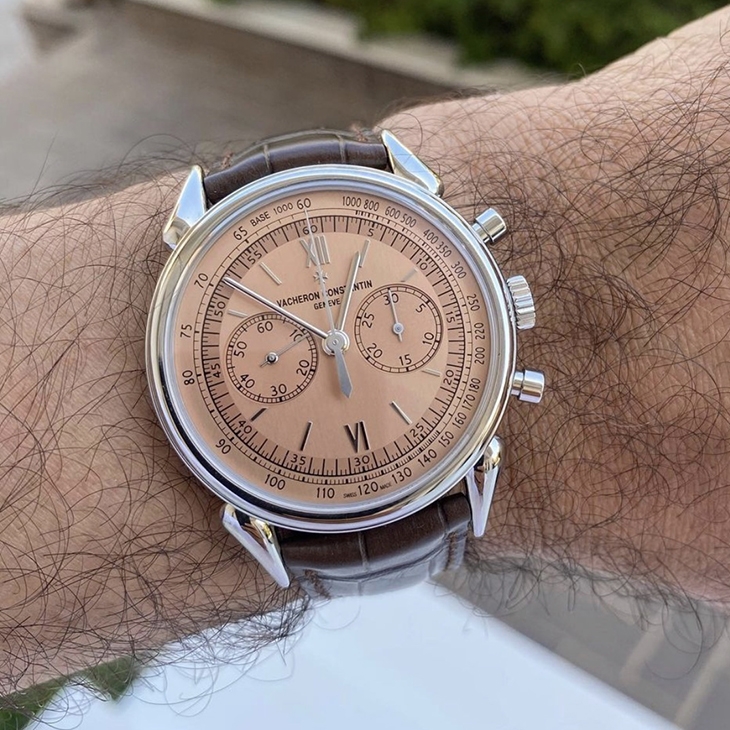 江詩丹頓Historiques Cornes De Vache 1955
Q2. 你的第一只手錶是哪一只?你還擁有它嗎?
Would you please share your first watch? Do you still have it?
我的第一只手錶是1978年的卡地亞Santos鍊帶款,至今仍留在我的收藏中。這只很受歡迎的錶,其設計來自於卡地亞為Alberto Santos-Dumont的飛行需求所製造的第一支腕錶。在人類飛行歷史的初期,Alberto Santos-Dumont於1906年佩戴卡地亞Santos腕錶,進行了一次飛行。
The 1978 Cartier Santos with integrated bracelet is the first watch and remains still within the collection. This piece is so attractive that it is a capitalised model by Cartier for Alberto Santos-Dumont, the first person filmed in an air plane 1906 at beginnings of airborne era.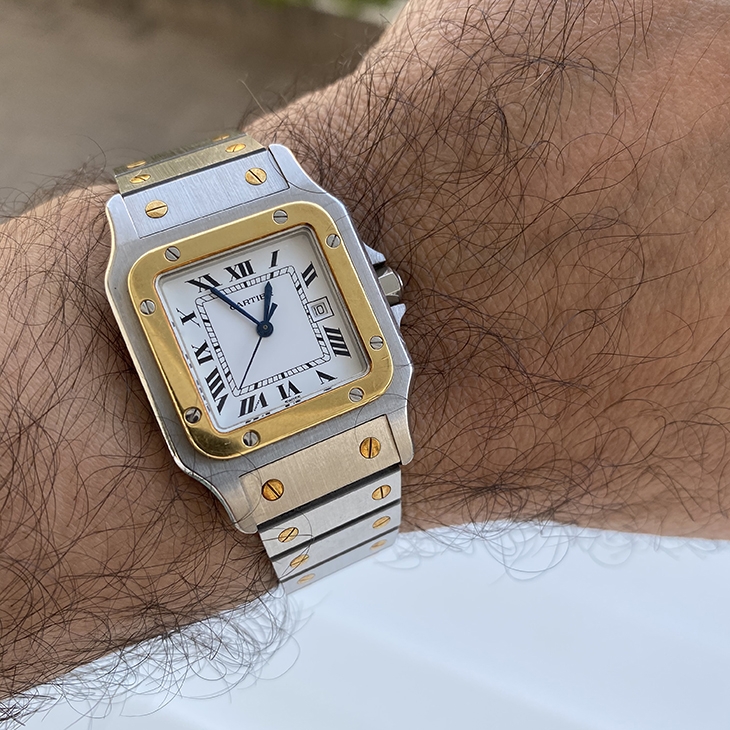 卡地亞Santos
Q3. 手錶對你的工作或生活來說代表什麼?
What do watches mean to your work or life?
手錶反映著佩戴者的個性,也依場合而有所不同。手錶展現出1760年代工業革命以來,微型機械工藝的進展。在工作上,我以手錶奬勵自己的成就;手錶激勵我追求精準與投入。在生活中,手錶是最能體現男士風格的配件,也是生活的記錄,不論所發生的是好與壞。
Watches are a personality reflect, adjusting the event mode, a piece that mirror the micro-mechanical capabilities since the 1760's industrial revolution. At work it is a reward of achievement inspiring the accuracy and dedication, and in life, part of being most recognised men's jewellery, it is a time reading record for good & bad times as live goes.
AP皇家橡樹15202 漸層藍 鈦+鉑金限量版
AP皇家橡樹15407雙擺輪鏤空腕錶
Q4. 你收藏手錶的標準是什麼?
What are your principles in collecting watches? What makes "a nice watch" for you?
能讓我看一眼就被吸引的錶,對我來說就是好的錶;不論是簡單的時間呈現,或是其他複雜功能。
A nice watch extracts by its simplicity in defining time or other complications at a glance.
AP皇家橡樹15202鮭魚面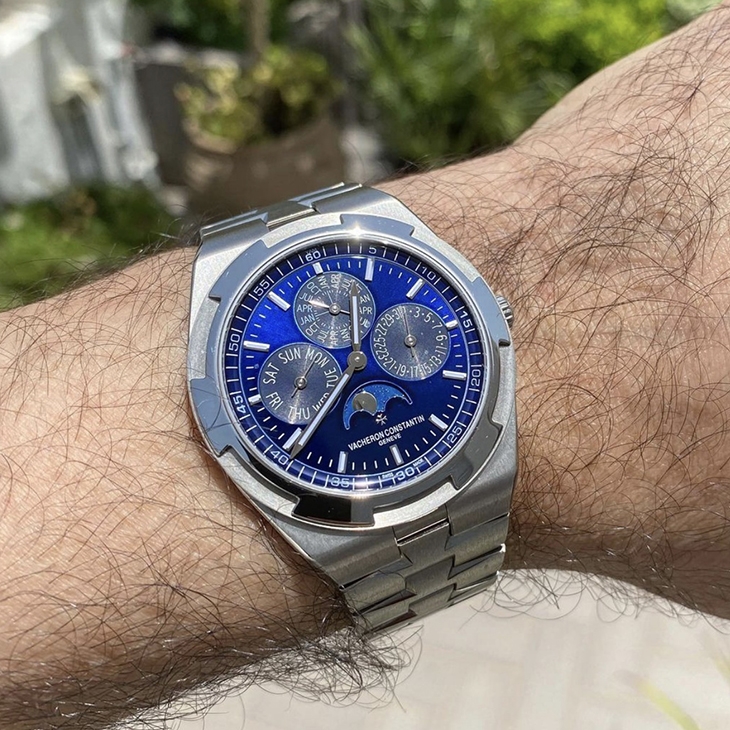 江詩丹頓縱橫四海超薄萬年曆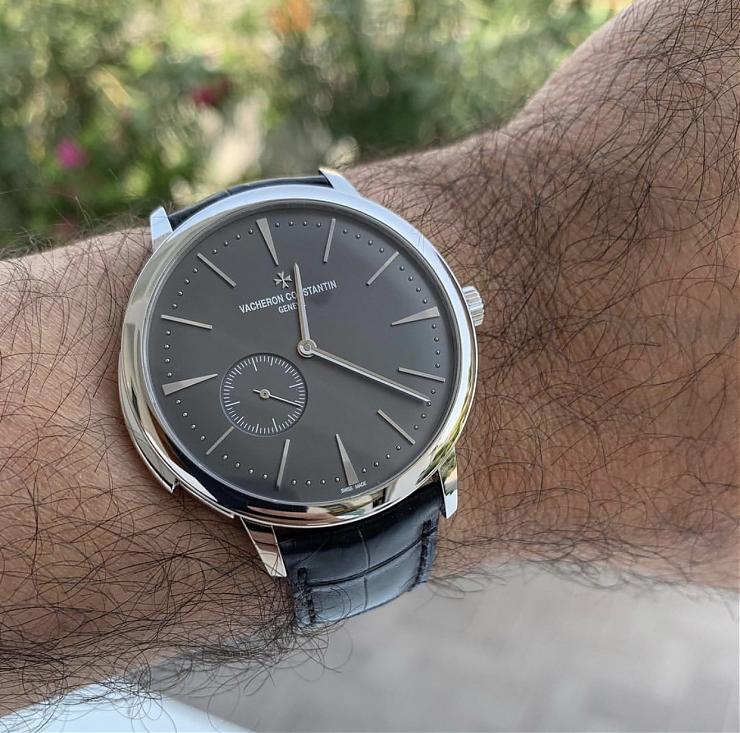 江詩丹頓Patrimony超薄三問
Q5. 你最喜歡哪一個品牌?
Which watch brand is your favorite?
這個問題很難只有一個答案,因為頂級品牌各自有其獨到與創新之處,而且不同品牌會在不同的項目中表現突出,因為評價手錶的標準很多元,如耐操的工具錶、奢華、或是不同的功能取向。
It is a variable choice as top brands and distinguished watchmaking impose high respect by their innovational options they create, and distinction level ranks out which league any brand stands at (tool watch, luxurious, durable or functional use)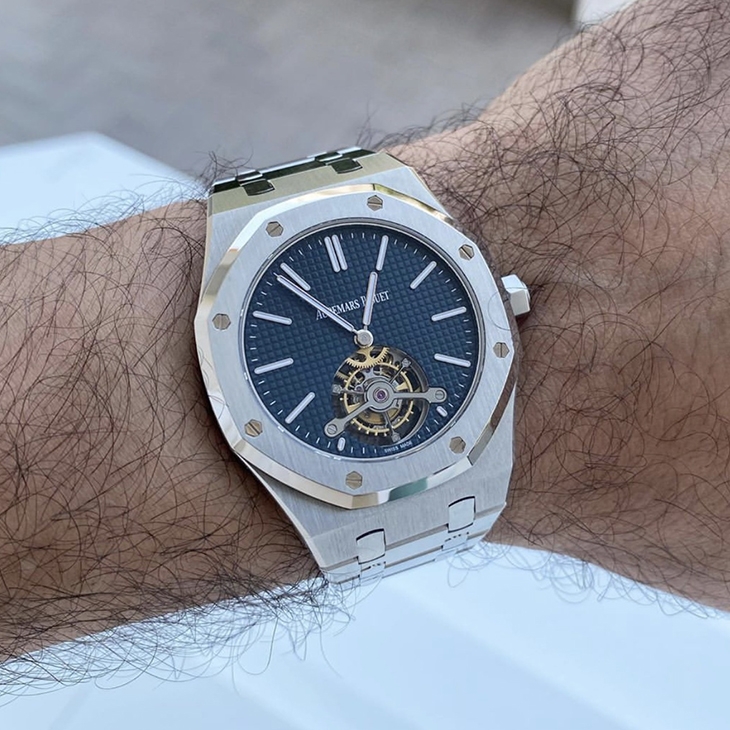 AP皇家橡樹26510超薄陀飛輪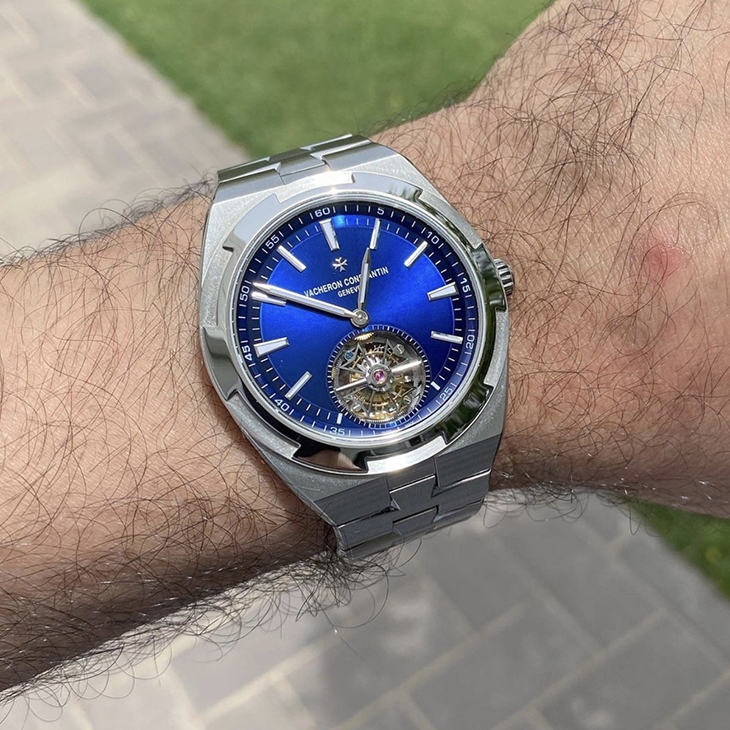 江詩丹頓縱橫四海陀飛輪
PATEK PHILIPPE 5370
Q6. 你夢想擁有的手錶是哪一只?
Do you have a dream watch?
白色金屬(鋼或鉑金)的百達翡麗5531世界時區三問報時。這只錶組合了一切令人難以抗拒的元素,如錶殼側面的立體巴黎釘紋、鏤空錶耳、掐絲琺瑯面盤、能獨立調整而不影響走時的24時區、以及三問報時。
Patek philippe 5531, but in white metal (steel or platinum) is the dream watch. This piece have irresistible combined features as: the Calatrava guillochè with hobnail case band pattern, skeletonise lugs, artistic cloisonné dial, 24 cities time zone disk adjusted without disturbance to time reading, and finally it tell time at wish (indication to the repetition striking minute option)
Q7. 手錶之外,你還有其他的興趣嗎?
Do you have other hobby than watches?
鐘錶工藝是我最主要的興趣,它占據我每天思考時間的40%以上。鐘錶世界非常有趣,一些知名的頂尖品牌已經開始從市場上、拍賣會中、或甚至從藏家那裡買回一些錶款,以便展示於博物館或私人會所,並保存鐘錶藝術免於消失。
Watch artisan and craftsmanship are a focal hoppy and the thought-time occupy my mind more than 40% of my day, moreover, watch world is so interesting and steadily developing proven that top recognised brands already start collecting their line production from the market, auctions and even from owners aiming for museum or private-house collection display besides preserve the craft from extinct.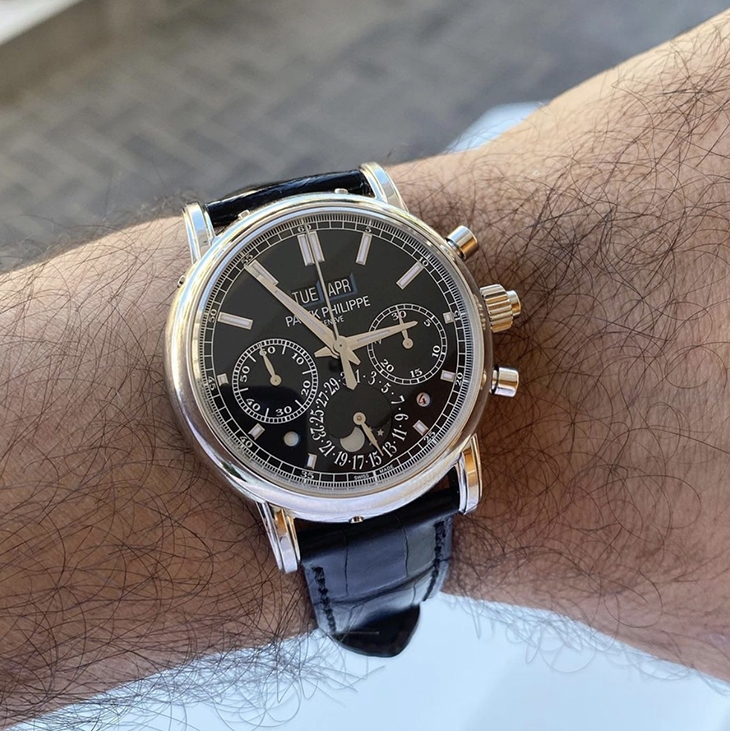 PATEK PHILIPPE 5204P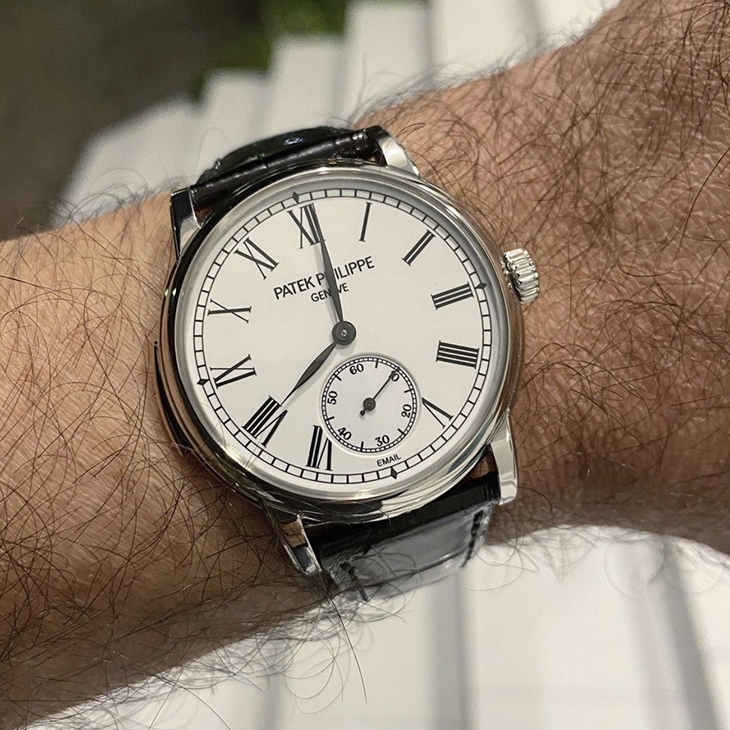 PATEK PHILIPPE 5078P三問