如果今天你只能選擇留下一款錶、而且是準備傳承給下一代的錶款,你會選擇哪一只呢?HOROGUIDES Magazine Vol.1的【TOP INFLUENCERS, 100 ICONS!】特別企劃,邀請大家認識一群熱愛鐘錶的藏家朋友,由這群真正閱錶無數的達人們介紹私人收藏裡想要傳承給下一代的錶款。
A traveler and adventurer with the passion for fine mechanical watches, mainly tool watches.No matter where in this world I go I always have a watch roll with me, making sure to have it all covered: GMT, diver and a pilot.
對機械錶滿懷熱情的旅行者與冒險家,尤其是工具錶。無論去到世界各地,一定會帶著隨身收納盒,確保面面俱到:GMT、潛水錶以及飛行錶
♦♦♦
When I got asked to talk about my favorite watch out of my collection it was a tough one since I feel connected to so many pieces which all tell a different story. But let me share this one with you:
The Rolex GMT-Master II (Pepsi MK II on Jubilee, Ref. 126710BLRO) - it was right 2 months before covid hit the world when I got the sudden call of my friend in Israel that my grail watch has arrived. Back then I just got back to Taiwan from Dubai but I couldn't wait to get my hands on that particular timepiece!
要我從收藏裡挑出一只最喜歡的錶並不容易,因為我所收藏的每一只錶都有一段故事,而這些都和我緊密的相連。不過我想特別分享這一只:勞力士 GMT-Master II(百事圈 MK II 五珠帶,Ref. 126710BLRO)。就在疫情席捲全球的兩個月前,我在以色列的朋友突然來電,說我的聖杯錶已經到貨了。那時我剛從杜拜回到台灣,但已經迫不及待地想要拿到那只特別的手錶!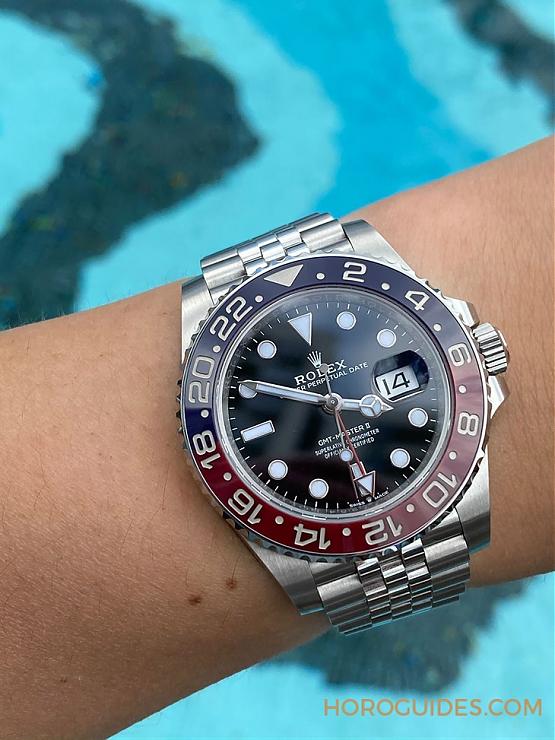 ROLEX GMT-Master II 126710BLRO 不鏽鋼/錶徑40mm/3285機芯/兩地時間功能
So I immediately booked a flight back west heading to Tel Aviv. Finally laying eyes on that beauty I knew it's more than a watch to me. This updated version of Rolex's pilot watch is so perfectly designed, simple, sporty and yet elegant - the Jubilee bracelet feels so comfortable on the wrist, the Pepsi bezel in ceramic adds a new fresh pop to the whole look. As a passionated traveler and adventurer myself I think this GMT watch just wears my DNA. Ever since it's one of the most precious pieces out of my collection.
所以我立馬訂了往回飛去特拉維夫的班機。當我凝視著這個美麗的東西,那一刻對我來說,它並不只是一只腕錶。勞力士這款全新版本的飛行錶設計完美、簡約,具運動感又不失優雅。——五珠帶的配戴手感非常舒適,陶瓷的百事圈則為整只腕錶帶來清新的氣息。我覺得這款GMT腕錶正好就是我作為一個熱情的旅行者和探險家的DNA。而它也成為我最珍貴的藏錶之一。
In my opinion watch shouldn't just be an investment and surely shouldn't be a reason to follow a hype. But a watch should be reflecting a part of yourself, your personality, it should belong to you and you should feel connected to it. I'm looking forward to many, many years full of stories and adventures together with this lovely Pepsi on my wrist!
我認為,不應該把腕錶視為一項投資,當然,更不應該用來炒作。腕錶應該反映出你自己,和你性格的一部分,它應該完全屬於你,你也應該感覺受到與它之間的緊密聯繫。我也很期待在多年之後,我與我手腕上的百事圈一起分享很多故事和冒險。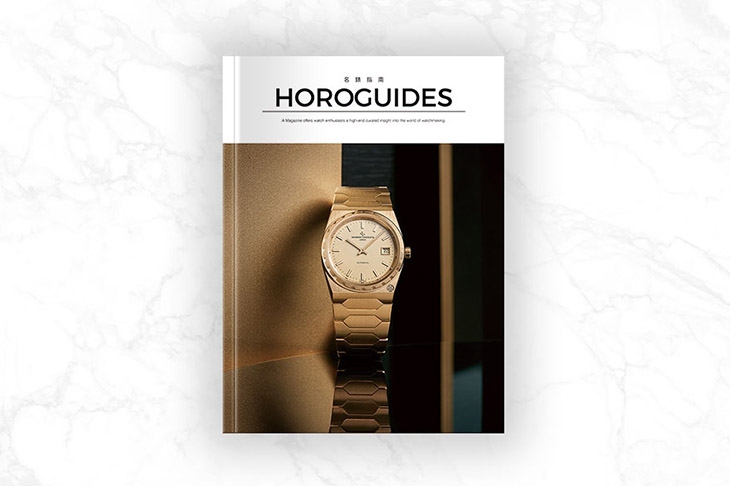 精彩完整內容,敬請閱覽HOROGUIDES Vol.1
➤ HOROGUIDES五週年,為什麼我們從數位媒體、選擇重拾紙本雜誌?總編輯Eric告訴你