什麼樣的達人可以讓HODINKEE列為七個必追蹤的Instagram帳號?這次的主角George Cramer就是其中之一!雖然他謙稱自己的帳號追蹤人數不多,但他擁有的卡地亞手錶真的堪稱是藏家等級,瀏覽他IG上的照片,近期幾乎清一色都是卡地亞的手錶,Tonneau酒桶型錶殼讓他情有獨鍾、擁有的Santos和Tank也為數頗豐,對於袖釦和手錶的搭配更是頗為講究。曾在十年前因為擔任鐘錶雜誌卡地亞論壇版主的George Cramer,就這麼因緣際會栽進IG的世界,在專業鐘錶網站QUILL & PAD上,也有他的卡地亞專文,完全是從玩家晉升專家的最佳範例,喜歡卡地亞就一定要立馬按追蹤的啊!
IG帳號:george.cramer
George Cramer
- Every Picture Tells a Story
- Click the link for my latest article -
Q1.你什麼時候註冊IG帳戶的?為什麼?
When did you create your IG account? and why?
大約在十年前,我擔任《Revolution》CARTIER論壇的版主,因為這個原因我後來建立了我的IG帳號,為了可以推廣一些貼文。
It must have been about 10 years ago, I joined Revolution as their moderator for the CARTIER forum and when the Cartier forum was changed into a Blog, I opened the IG account to promote my articles.
Q2.透過你的貼文,你想傳達什麼訊息?
What message would you want to convey through your post?
我試著努力創造更多風格男錶的時尚意識。鎖定的品牌一般來說是卡地亞、還有梵克雅寶,當然也有其他的牌子。
I am trying to create awareness for the more stylish watches for men. CARTIER in general, but also VAN CLEEF & ARPELS and others.
Q3.請選出最能代表你的風格的貼文
Please choose one post that can represent your style
這個問題不容易回答。以當下的視角去拍攝戴著錶那只手的照片,是最多人喜歡的形式。不過其他比較不同風格的照片,單純是我自己喜歡的東西,那些更能反映出我的風格。
Not easy to answer, since I, of course, do pictures from wrist shots to location shots, that's what people like the most. But the bit more unusual pictures are what I like myself and what more reflects my style.
Q4.哪篇貼文讓你印象最深刻?或哪篇貼文的點擊率最高?背後有什麼故事可分享嗎?
Which post impressed you the most or which post has the most engagement rate? Is there any story behind?
絕對是卡地亞的Tonneau莫屬!雖然我不認為它適合每個人配戴,不過它真的很時髦。而且對於我這種追蹤人數並非爆量的帳號來說,這張照片獲得超過2,000個讚,真的令我很震驚!
That must have been the post of the Cartier Tonneau. I thought that this would not be a watch that suits everybody. It is very Dandy, so it really amazed me that the picture received over 2,000 likes, which is a lot for a small account like mine.
Q5.手錶對你的工作或生活來說代表什麼?
What do watches mean to your work or life?
對我來說,手錶是我的一切,重要到有時候我真希望它不要那麼重要!當我有空時的每一分鐘,我會把玩我的手錶、幫它們換錶帶、或是替它們拍照。而且當我旅行的時候,我真的很難決定到底要帶哪只錶去!
Watches mean everything for me and sometimes I wished, that it was not like that. Every minute of spare time I have, I play with my watches, switch a strap, change a watch, or take pictures of it. When I travel it is always hard to decide which ones I take with me.
Q6.你收藏手錶的標準是什麼?
What is your principle in collecting watches?
對我來說,它一定要是我喜歡戴的錶,而不是用來收藏或是具備歷史意義的錶款,也不是其他人遊說我買的款式!當我再也不會戴它的時候,我就會把這只錶賣掉。
In my case, it needs absolute to be something that I like to wear. Not something that fits the collection, or something that belongs historically to another watch, or what other people tell me to get. When I do not wear a watch anymore, I sell it.
Q7.你最喜歡的品牌是哪一個?
Which is your favorite brand?
當然是卡地亞!不過我也意識到越來越多的品牌,值得我去喜愛和尊敬。像是URWERK、IWC、朗格和寶璣。
Absolutely Cartier. But I realize that there are more brands to love and to respect, like URWERK, IWC, A. LANGE & SÖHNE and BREGUET for instance.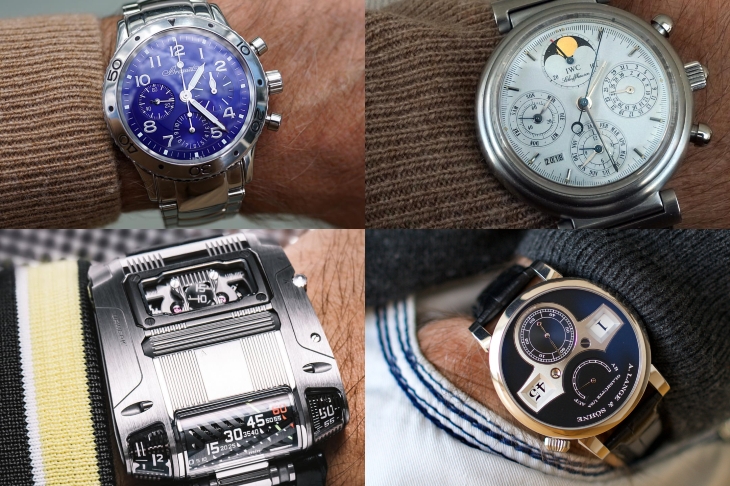 Q8.你最喜歡的手錶是哪一只?
Which is your favorite watch?
一定要說的話,應該是Santos Dumont,但真的很難抉擇啊!
Probably the Santos Dumont, but it is a hard choice.
Q 9.對你來說,一只好的手錶必須具備什麼條件?
In your opinion, what makes "a nice watch"?
對我來說,一只好的腕錶,它要適合配戴者的風格。一只適合你的手錶,不見得適合我,反之亦然。手錶應該和錶主的生活型態是符合的,而不是為了推廣或炒作去擁有它。
To me, a nice watch is a watch that fits the style of the person. What a nice watch is for you, does not need to be a nice watch for me and the other way around. A watch should match the lifestyle of the owner and not the watch that's promoted or hyped.
Q10.如果你只能保留一只手錶,你會留哪一只?為什麼?
If you only get to keep ONE watch in your collection, which one would you keep? Why?
你會對我的回答感到驚訝。我想保有我現在的不鏽鋼Santos,因為我喜歡這款手錶的外型和質感,它是我可以隨時隨地佩戴的手錶,適用於任何天氣和場合。它可以搭配西裝和袖扣以及牛仔褲,是我目前擁有的手錶中適用性最高的。
You will be surprised by my answer. It is my current steel Santos with steel bracelet because I love the looks and build quality of this watch and it is a timepiece that I can wear always, in any weather condition and to any occasion. It works with a suit and cufflinks as well as with jeans. It is the most versatile watch I have.
Q11.你下一只想買的錶是什麼?
Which watch would you want to purchase next? Why?
我正在尋找一只IWC的三問錶。我覺得三問報時是很令人著迷的複雜功能,IWC的葡萄牙白色金屬三問錶,它的報時聲令人感到平靜祥和,甚至是近乎神聖的聖音。
I am eying an IWC Minute repeater. I find a minute repeater a very attractive complication and the IWC Portuguese Minute Repeater in white metal is so plain and serene, almost holy.