美人時計
懂錶的女人最美麗 !你必須follow的 @lunglungthun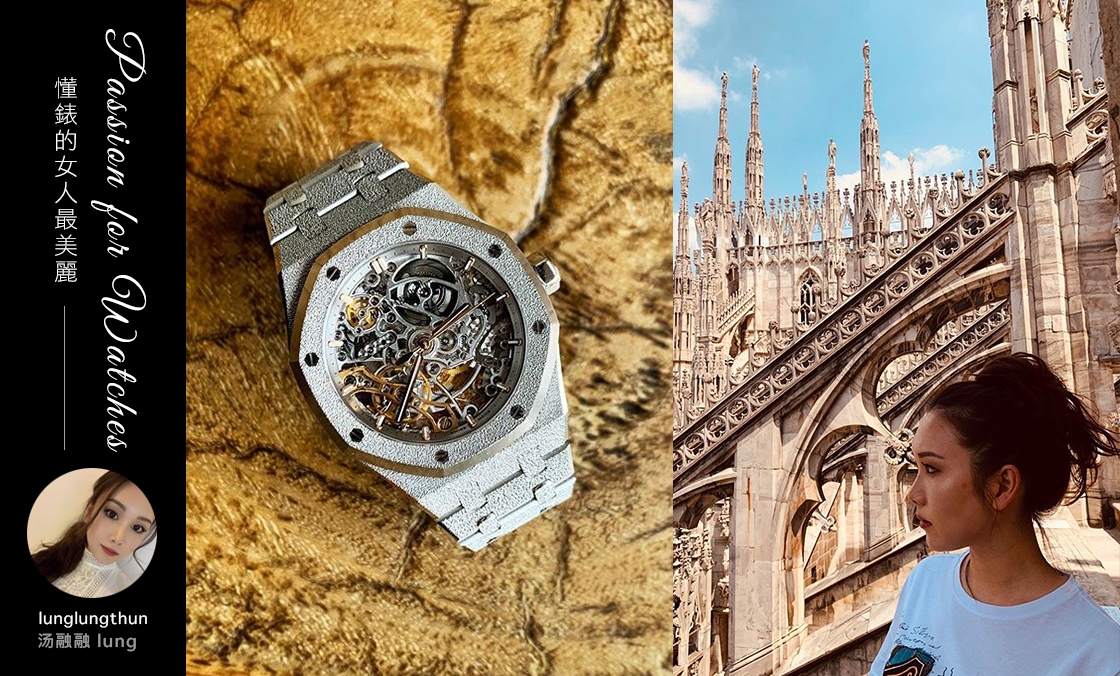 對多數女性來說,包包、鞋子和珠寶,有著無可抵抗的吸引力。而在愛錶的男士眼中,懂得欣賞腕錶的女性,有著一種知性與感性兼具的內涵與氣質。在「懂錶的女人最美麗」這個單元的第二篇,我們訪問到了@lunglungthun,讓我們一起來認識這位自稱「熱愛開箱腕錶更勝於包包、鞋子和珠寶」的美人吧!
IG帳號:@lunglungthun
自我介紹:湯融融
Q1: 妳是如何開始對手錶產生興趣的?
How did you get interested in watches?
當我還是個小女孩時,身邊總是擺滿了書和雜誌。因為我喜歡閱讀,自然就拿起雜誌,一頁一頁、一本一本地看下去。漸漸地,我開始著迷於閱讀關於錶的文章。從那時起,我就期待著有一天能擁有自己的手錶。
真正的轉折點,是在我購入第一只手錶的時候。從研究、尋找、購買到開箱,這整個過程,給了我一種前所未有的興奮,是我在包包、鞋子和珠寶上從未感受到的。而隨著我接觸的手錶越來越多,我掉入了這個美麗的坑,並開始更多地欣賞腕錶的工藝和歷史。
When I was a little girl I was always surrounded by books and magazines. I loved reading so naturally I would flip through the magazines and over time I became fascinated with reading the articles on timepieces. From that point onwards I always knew I wanted to own a watch one day.
The real turning point came when I bought my first watch. The whole process of researching, shopping around, up to unboxing the watch gave me such a thrill that I never felt with bags, shoes, and jewellery. As I started seeing and touching more pieces in real life, I fell into this rabbit hole and started appreciating the workmanship and history even more and more.
Q2: 哪一則貼文最能表達妳的風格?
Which of your IG post best represents your style?
我的風格,既務實又有女人味。我喜歡簡單的穿著,搭配顯眼的配件。大部分的時候,你會看到我穿著T恤、裙子、球鞋、手錶和一串首飾。我所有的手錶和首飾都有屬於我的特別記憶,反映出或連結於我某一天或某一段時間的心情感受。
I am both practical and feminine. I like dressing simple with loud accessories. Most of the time you'll find me in a T-shirt, a skirt, sneakers, a watch, and tons of jewellery. All my watches and accessories hold a specific memory for me and need to reflect or connect with how I feel on any given day or certain period of my life.
Q3: 妳覺得女性和男性愛錶人有何不同之處嗎?
Have you found any differences between female and male watch lovers?
絕對有!雖然我不想下定論,但概括而言,男性可能會選擇腕錶來表達生活方式和個性,而女性較多使用腕錶作為突顯穿著的類珠寶配件。
此外,我發現很多男性只忠於一兩個品牌。不論是因為設計或是行銷,一個鐘錶品牌的歷史和形象,對男性而言,是決定購買特定錶款的重要因素。
而女性會收藏多個品牌,只要腕錶的設計能吸引她們。對女性而言,多樣化的設計和價格也是極重要的決定因素。
Definitely! I hate to generalize here, but in a nutshell, men may choose watches to convey their lifestyle and personalities, whereas women use watches as more of a jewellery piece to accentuate an outfit.
In addition, I find that most men tend to stay loyal to one or two brands only. The watch brand's history and vision, whether it be design or marketing plays an important part in why they choose to purchase a certain timepiece.
Women on the other hand will collect a variety of brands so long as the design of the watch appeals to them. The versatility of the watch design and price point are also huge determining factors for them.
Q4: 對你的工作或生活來說,手錶代表什麼?
What do watches mean to your work and life?
錶對我的意義,大於一般人的理解。我在工作時是非常不一樣的人,所以職場上的人不太清楚我對錶的喜愛,儘管我辦公室裡的鐘錶目錄越來越多。
工作之餘,我能夠回歸自我。身為女性,我不會因為喜愛手錶大於鞋包而感到不安。手錶讓我成為一個更快樂的人,而我也因此而認識了一些友善、真誠且樂於助人的人,其中不少也成為了好友。
They mean a lot more than people realize. I am very different when I'm at work so ppl at work haven't quite figured out my love for watches despite the growing number of watch catalogues at the office.
Outside of work, the process of me opening up and not feeling insecure about being a girl and liking watches over bags and shoes has made me a happier person and through this I've met some of the nicest and most genuinely supportive people, some of whom I consider good friends now.
Q5: 妳最喜愛的錶是哪一只?為什麼?
Which is your favourite watch? Why?
好難選擇喔!每一只錶都和我有緊密的連結和特別的回憶。但就目前而言,我最喜愛的是愛彼皇家橡樹雙擺輪鏤空腕錶(型號15466BC),因為它不但體現了我的個性和風格,而且也是我得到過的最棒驚喜之一。
在我造訪愛彼位於瑞士Le Brassus的錶廠時,我曾經對我的銷售代表描繪我夢想中的錶:37毫米的霜金鏤空。當時沒有任何消息顯示愛彼會發表這樣的錶款。而在這趟旅程結束後不到兩週,他們就通知我說我的夢想錶已經抵達香港,你們可以想像一下我當時的反應。
This is so hard! I feel attached to every piece and they all have special memories for me, but, as of date, it'll have to be my AP Royal Oak Double Balance Wheel Openworked (#15466BC) because it epitomizes my personality and style. It was also one of the best surprises I've gotten in my life.
During the Audemars Piguet factory visit at Le Brassus, I had described my "dream watch" to my SA (a frosted openworked in 37mm) even before there was any news of AP releasing such a watch. Now, imagine my reaction when they told me my "dream watch" had arrived in Hong Kong less than two weeks after my trip.
Q6: 身為一位女性愛錶人,妳對鐘錶品牌和鐘錶業界,有什麼話想說呢?
As a female watch lover, do you want to say something to the brands and the watch industry?
我有太多想說的了,這個訪問的篇幅恐怕不夠。我希望各品牌能多專注於為女錶創造出在外型和功能上更棒的機芯和設計。光是加上一些鑽石或是搞個可更換式的錶帶,這樣的設計已經是不夠的了。女性的特質絕不僅僅如此。
就鐘錶活動而言,如果能更多著重於向我們介紹機芯、材質和品牌的歷史,那會很棒。我認為,當女性開始認識到腕錶的價值,是等同甚或超越包包和珠寶的價值時,女性的消費行為,將會在不同的商品部門間產生真正的轉移與改變。
此外,腕錶的銷售體驗也有可以改進之處。好的教育訓練是一切的基礎,它使銷售人員能問對的問題,因為女性消費者希望自己的聲音被聽見。若有一位銷售人員能了解妳的品味與生活型態,甚至推薦妳平常不敢嘗試的錶款來鼓勵妳挑戰自己的風格極限,這樣的經驗會讓整個腕錶收藏的旅程更令人滿足、更不怯步。
I have so much to say that this interview alone wouldn't even do it justice! I wish that brands would focus more on creating better movements and designs (form and function) for female watches. Designs that rely on adding diamond bezels or playing with interchangeable straps just doesn't cut it anymore. Women have more personality than that.
In terms of watch events, it would be nice if more emphasis was placed on teaching us on movements, materials, and the history of the brand. I think the moment women start to see the value of a watch, that it can match or outweigh that of a bag or piece of jewellery, then real change will shift in terms of their spending in the industry.
Slight improvements can be made with the whole retail experience too. It all starts with the right training so sales can ask the right questions. Women customers appreciate being heard. Having somebody that understands your taste, lifestyle, and even someone that pushes your style boundaries to recommend pieces that you may not have dared to experiment with would make the whole journey of collecting less intimidating and more gratifying.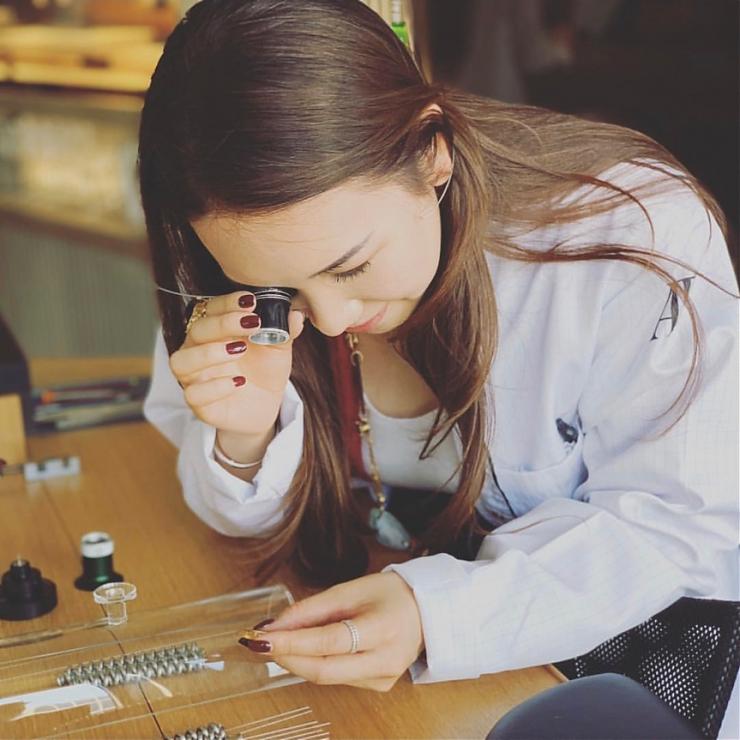 Q7: 除了手錶,你還有其他的愛好嗎?
Do you have other hobbies besides watches?
手錶永遠是我的最愛,但我也喜愛跑步和閱讀。
Watches will always come first but I love going for a good run and reading.