IG名錶達人
IG名錶達人,你一定要follow的@horomariobro
在鐘錶藏家裡,有一派是著重於穿著搭配的品味人士,還有一派則是Hardcore的硬核玩家,而HOROGUIDES這次邀請到的鐘錶達人@horomariobro,就是屬於後者。在他的IG照片裡,手錶的上手穿搭照屬於少數,反而是有佔比不少的腕錶微距細節,機芯夾板的交會縫隙、指針與盤面極為貼近的距離、印刷Logo在面盤上呈現的厚度,甚至還有錶殼亮面反射出的倒影!也因此他鍾愛的品牌,例如A. Lange & Söhne、Vianney Halter、F.P. Journe等,都是以細膩工藝聞名。
這樣一位愛錶之人,所鑽研的確實是大多數人不會注意到的細節,但誠如他所說,隨著社群平台的興起,他的玩錶之路不再寂寞,因為有全世界懂錶、愛錶的你我,理解並認同他對腕錶的狂熱。
IG帳號: @horomariobro
Followers:1.4K
Q1. 透過你的貼文,你想傳達什麼訊息?
What message would you want to convey through your post?
所有我貼文中的手錶,都是我的個人收藏;因此我的貼文也傳達了我喜歡的類型和風格;不過這是無心插柳。我主要想傳達的訊息,是我很欣賞、也驚訝於「時間」這個抽象的觀念,可以透過許多機械零件的組裝、微工藝創新和藝術家的職人精神,而被具象地呈現。
以槓桿式擒縱為例,它已經存在超過250年,且至今仍是腕錶中最常使用的擒縱系統。它的概念簡單,但影響深遠。直至今日,它仍讓我感到驚奇;而且也不斷在工作中提醒我:最佳化的解決方案,時常也是以最簡易的形式出現。
All watches in my posts are in my collection so they convey the types and styles of watches that I like. However, that's more of a byproduct of my intention. The main message I am trying to convey thru my posts is my appreciation and amazement of how assembling various individual mechanical components can realize an abstract concept of "time" thru micro mechanical engineering innovation and artisanal craftsmanship.
Take the lever escapement as an example, it's been around for 250+ years and it's still the most prevalent escapement system used in watches today. The idea is simple, yet profound. It continues to amaze me until today and serves as a constant reminder for me to apply at work that elegant solutions often times are simple in form.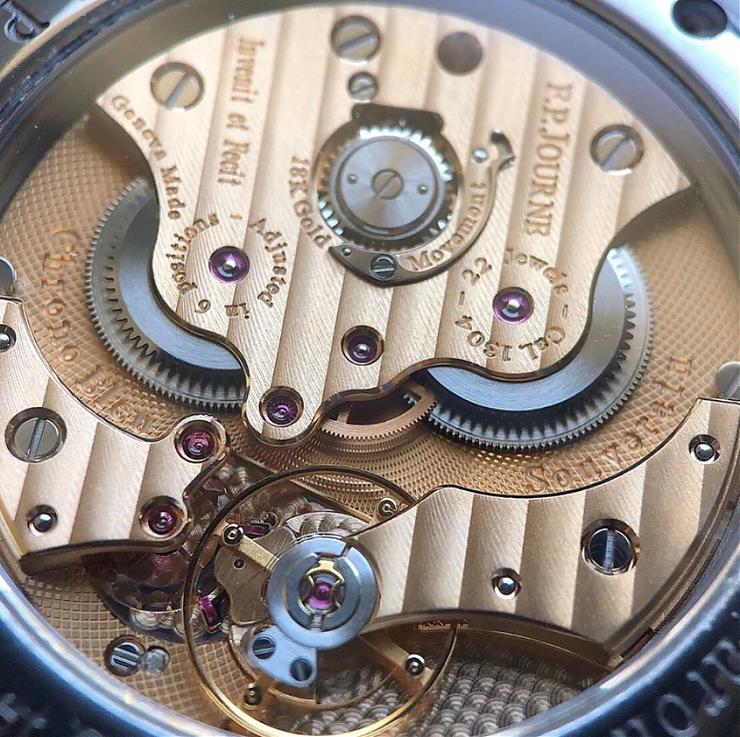 F.P. Journe Chronomètre Bleu的機芯。
ZENITH El Primero機芯。
Q2. 你的第一只手錶是哪一只?你還擁有它嗎?
Would you please share your first watch? Do you still have it?
我的第一只手錶,是ZENITH El Primero計時碼錶;是家人送我、讓我自己選的禮物。我被每小時36,000轉的震頻深深吸引,面盤上的鏤空部分也能讓我隨時欣賞擒縱系統的超高速動作。我也訝異於一只機械錶能夠測量至十分之一秒;以前我以為只有電子碼錶才做得到。
我仍然保有這只錶,它也會永遠留在我的收藏中。作為家人送給我的禮物,也作為我的第一只機械錶,它對我而言有很大的情感價值。即使現在我很少戴它,但每當我看著它時,許多美好的回憶便湧上心頭。
My first mechanical watch is a Zenith El Primero Chronograph. It was given to me by my family based on my choice. I was fascinated by the high beat of 36000 vph with the openwork on the dial where I could see the incredible fast escapement actions on demand. I was also very impressed by the fact that a mechanical watch can measure down to 1/10th of a second, which I thought was only possible in a digital stopwatch.
I still have the watch and it will always be in my collection because it has a lot of sentimental value to me being a family gift and my very first mechanical watch. It brings me good memories whenever I see the watch even though I don't wear it often anymore.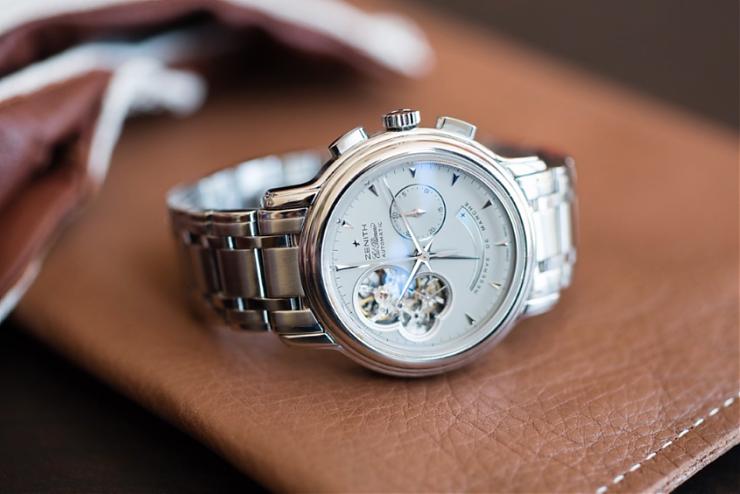 Q3. 手錶對你的工作或生活來說代表什麼?
What does watches mean to your work or life?
手錶對我的生活而言非常重要。我不記得曾有任何一天我沒有戴錶,除非是我為了去領新錶而刻意空手。即使現在因為新冠病毒之故,我每天都在家工作;但沒戴錶仍讓我覺得好像沒穿衣服一樣。我每天也都會上網讀腕錶的文章,並和錶友聊錶。因此手錶可說是我生活中不可或缺的一部分。
在還沒有社群平台的年代,我的玩錶之路頗為寂寞。隨著IG、臉書和通訊軟體的出現,錶友之間的距離大為拉近,資訊也能即時交流。事實上,我的玩錶之路已從寂寞轉為危險—對我的錢包危險。
和大家一樣,我的工作壓力十分大,而我時常從手錶中找到慰藉。當我工作上喘不過氣來的時候,我會休息片刻,看看我的手錶,或是用我電腦包裡隨身攜帶的放大鏡來仔細端詳機芯。這麼做,非常有助於我的頭腦清醒。
基本上我無法想像一天不戴手錶,它對我而言,就如同水和空氣一樣的重要。
Watches are very important to me in my life. I don't remember a day when I don't have a watch on my wrist except for the times that I intentionally do not wear a watch just to pick up a new watch. Otherwise, I'd feel "naked" without a watch even when I am working from home everyday now due to COVID-19. I also read online watch articles and chat about watches with watch buddies on a daily basis. So watches are very inseparable in my daily life.
For me, it used to be a pretty lonely journey for watch collecting before social platform was available. With the advent of social platform like IG, Facebook, online chats, it has brought the watch community much closer with information being shared real time. In fact, this journey of mine has changed from a lonely one to a dangerous one, that is dangerous to my wallet.
My work is quite stressful like everyone else's. So I often take solace with my watches when I feel stressed out at work. I'd take a short break, and look at my watch and sometimes loupe the movement as I always have a loupe in my computer bag. It really helps clear my mind.
Basically, I can't imagine a day without watches because it's as essential as water and air to me.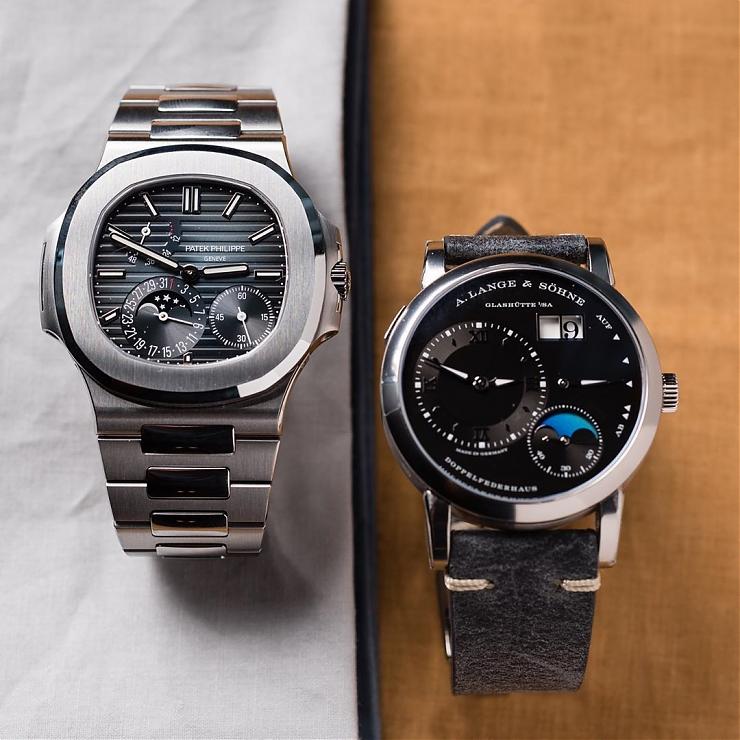 百達翡麗

5712

和Lange

1

月相。
Q4. 你收藏手錶的標準是什麼?
What are your principles in collecting watches? What makes "a nice watch" for you?
我收藏手錶的標準可分為兩個部分:有形的和情感的。
有形的部分,設計必須簡單、不過度浮誇;但功能上可以複雜。我也偏好無日期的面盤,因為我覺得大部分的日期都好像是事後再加上去的。唯一的例外是朗格,日期窗是從一開始就被巧妙構思於面盤上,而且也是必須擁有的代表性設計。相較於自動上鍊,我也偏愛手上鍊的機芯,因為可以每天為手錶上鍊,感覺更親近。在體會每一只錶不同的上鍊手感和聲音時,也能欣賞機芯。最後,手工打磨而言是很重要的;雖然它和錶的準度和穩定並沒有技術性的關連,但打磨能展現出一位製錶師所投注的熱情以及工藝的水準。對我而言,這是賦予一只手錶靈魂的重要因素。
至於我收藏手錶的情感標準,則是當我初見一只錶時,它所給我的驚豔和快樂程度,以及當我擁有該只錶一段時間後,是否還能有如同初見時的感受。
總的來說,我很享受我所收藏的手錶,因為它們讓我學會欣賞;而且每當我將它們戴上手腕時,都帶給我會心一笑,也讓我回想起生命中的一些重要里程碑。
My principles in watch collecting have two parts, tangibility and emotions.
The tangible part are the design of the dial needs to be simple and not overly extravagant, yet the complication of the watch can be complicated. Also, I prefer no date on the dial as I feel most dial designs with a date are more of an afterthought. One exception for me is A. Lange & Söhne where I feel the date is well designed onto the dial from the start and it's a must-have iconic design. I also prefer manual wind over automatic movement as I can wind my watches on a daily basis to have more bonding experiences with them. Each watch also gives different winding feel and sound. It also allows me to enjoy the unobstructed view of the movement. Last but not the least, hand finishing of a watch is very important to me. Even though hand finishing does not technically contribute to the accuracy or stability of a watch, it does express the level of artisanal craftsmanship and the passion put in by a watchmaker. To me, it's one of the big factors that gives a soul to a watch.
The emotional part are the "wow" and "happiness" factors when I see the watch for the first time and if I will still feel the same "wow" and "happiness" factor after I own it for quite some time.
At end of the day, I enjoy the watches I collect because they make me appreciate, put a big smile on my face whenever I put them on my wrist and also bring me memories of certain milestones in my life.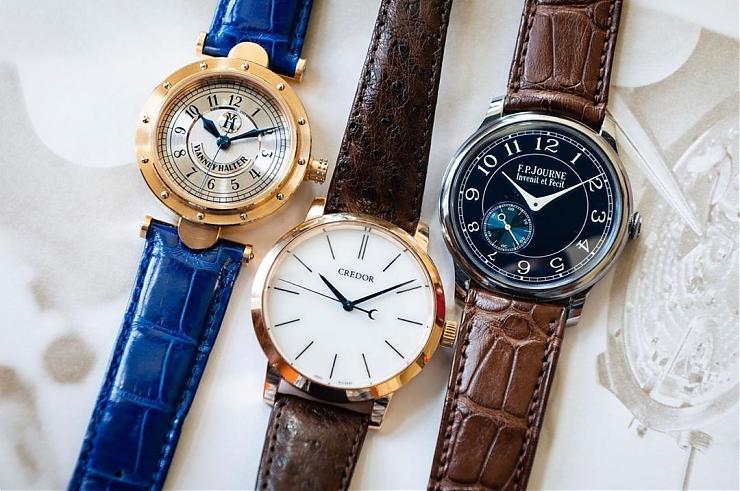 (由左至右)Vianney Halter Classic、Credor Eichi II與F.P. Journe Chronometre Bleu。
Q5. 你最喜歡哪一個品牌?
Which watch brand is your favorite?
這個問題有點難,因為有很多品牌我都喜歡。如果有人用搶指著我的頭、逼我只能選一個的話,我會說是朗格。
我選擇朗格,因為它結合了現代的設計、傳統的製錶以及技術的呈現。朗格對細節的重視也是一等一的,例如所有的腕錶都會經過兩次的組裝測試。
一個很好的例子是朗格的Zeitwerk,它現代設計,在於那有如同電子錶的面盤。它的傳統製錶,可見於機芯橋板上的格拉蘇蒂波紋、套筒上的螺絲、以及擺輪夾板的雕刻等等。而它的技術則呈現在時分盤的瞬跳、穩定的動力釋放系統、以及減少時分盤瞬跳時對機芯衝擊的裝置。
This is a difficult question as there are many brands that I love. If someone puts a gun to my head and forces me to pick one, I'd say A. Lange & Söhne.
I pick ALS because I like how it combines modern design, traditional watchmaking and technical execution altogether. ALS' attention to detail in their work is also topnotch including the practice of double assembly for all their watches.
One such good example would be Zeitwerk where it has the modern design of a digital watch dial layout, the traditional watchmaking in using Glahutte ribbing on the plates, screws over chatons, engraved balance cock..etc, and the technical execution of instantaneous jumping hour and minute discs with creative application of remontoire and air-brake system.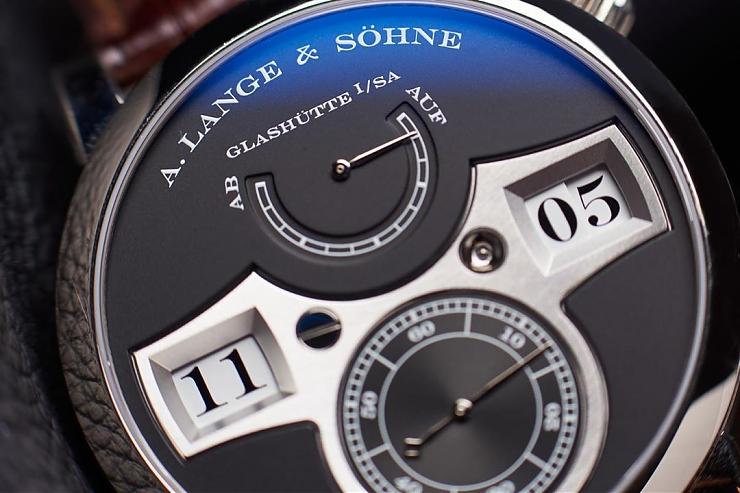 我也欣賞朗格為不同的複雜功能設計專門的機芯,而不是走捷徑把功能模組一一加上去。因此,絕大多數的朗格機芯都十分符合錶殼尺寸,不會因為機芯太小而還需要填補錶殼和機芯中間的空間。一個很大的加分是,大部分的朗格機芯都仍然是手上鍊的!
I also like how ALS designs movements specific to the complications of their watches and not try take the shortcut of stacking on the complication modules on top of each other. So most of ALS movements would fit their cases well and not result in being too small for the cases requiring space fillers. A big plus is that many of their movements are still manual wind!!!

(由左至右)

Zeitwer、Datograph與Lange 1

月相。
Q6. 你夢想擁有的手錶是哪一只?
Do you have a dream watch?
有啊!我有很多夢想錶,哈哈!
如果我要縮小範圍的話,最多只能縮到兩只錶:Philippe Dufour 的 Simplicity 和 Vianney Halter 的 Antiqua。這兩只錶都是我收錶原則的典型體現,且都有製錶上的重大歷史意義。
這兩只錶之所以是我的夢想錶,另一個原因是:我不認為在我有生之年,有可能收到這兩只錶;因此,它們永遠都會是真正意義上的「夢想錶」。
Yes, I do and have many. LOL.
If I need to narrow down, I can only narrow down to two. They are Philippe Dufour's Simplicity and Vianney Halter's Antiqua. Both of them are the epitome of my watch collecting principles that I answered earlier. Both also have great historical significance in horology in their own right.
I also narrow down to these two because I don't see myself being able to acquire them in my lifetime therefore, they will remain as true "dream watch".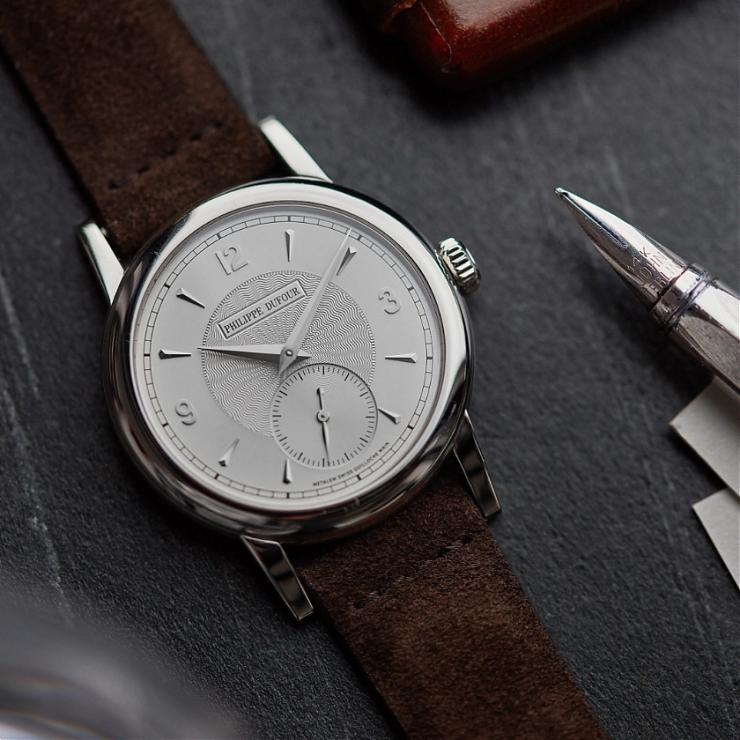 Philippe Dufour Simplicity 。(Photo Credit: @A collected man)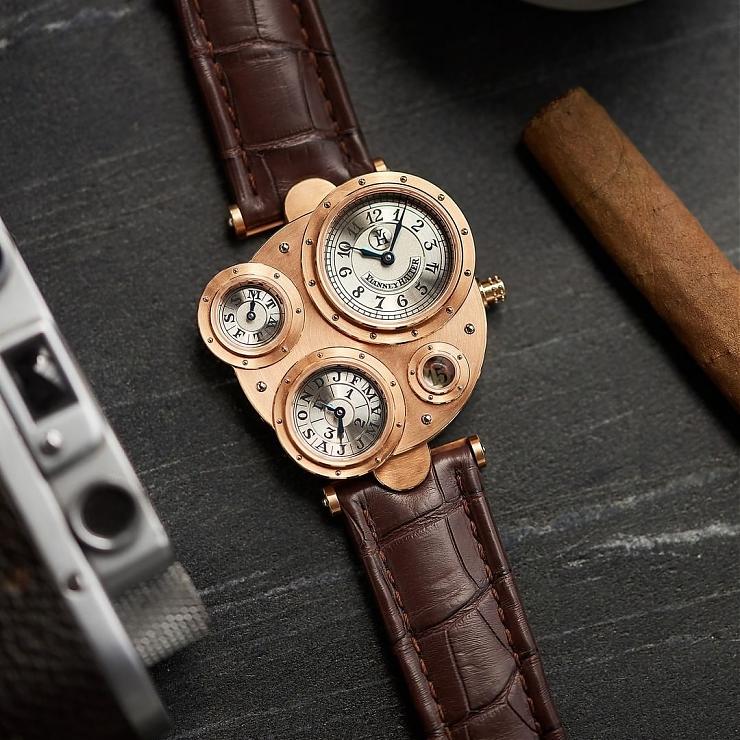 Vianney Halter Antiqua。(Photo Credit: @A collected man)
Q7. 手錶之外,你還有其他的興趣嗎?
Do you have other hobby than watches?
除了手錶之外,我還享受駕駛、打棒球及看球賽。
我覺得我對車子的興趣和對手錶的興趣有相似之處。我喜歡駕駛手排車,也偏愛簡單、經典、雋永的外型。對我而言,駕駛的樂趣,並不在於能開得多快去打破一個我無法打破的紀錄,哈哈!
對我而言,駕駛的樂趣來自於透過操作排檔、離合器和踏板,與車子產生互動連結的感受。手排車的換檔或許不總是如自排車一般順暢完美,但正是人的不完美的因素,讓每一次的駕駛經驗都是獨特且值得回味的。這也可類比到我上述的那兩只夢想錶;正是因為手工製作,每一只錶都可能因為人的不完美因素而成為獨一無二。事實上,它們並非不完美,而是製錶師在每一只錶上面所留下來的印記。
Outside of enjoying watches as a hobby, I also enjoy driving cars and playing/watching baseball.
I find my interests in cars similar to watches in the way that I prefer driving manual cars and also prefer simple and classic car aesthetics that are long lasting. Driving a car to me is not about how fast I can drive the car in order to beat some records and I can't. LOL.
To me, it's about the great enjoyment I get from being able to connect with my car thru the shifter, the clutch and the pedals. The shifting of gears may not always be as perfect as an automatic. However, it's this human element of imperfection that makes each driving experience unique and rewarding. It's analogous to handmade watches like Simplicity or Antiqua that each piece is unique in its own because of human element imperfections. In fact, they are not imperfections. They are the markers left behind by the watchmaker to make each piece unique.