焦點話題
IG影響力人物:Winston Koo的收藏風格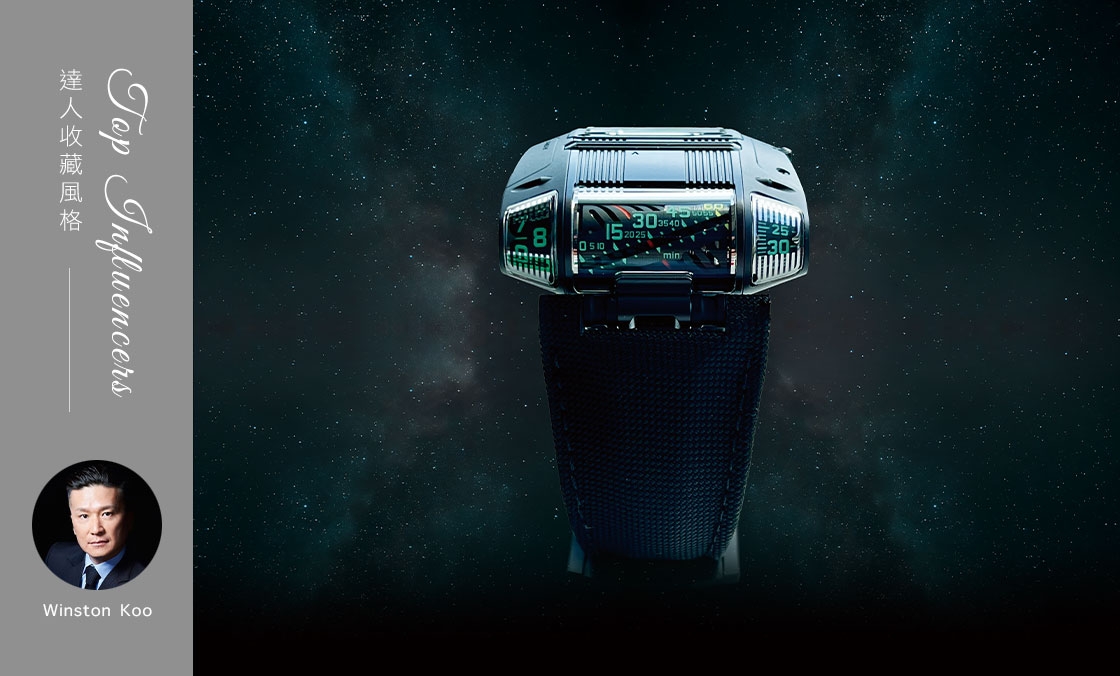 將腕錶戴上手,展示的不只是一枚配件,同時也展露了一部份的自我,包含個性、品味,以及你對腕錶收藏的看法見解。特別企劃【TOP INFLUENCERS, what's your collecting style? 】以錶會友,邀請43位鐘錶藏家分享他的收藏風格,以及收藏裡最具代表性的錶款。43位藏家的43種答案,都是收藏歷程的真實體會。
我的婚姻生活美滿,有三個調皮卻很棒的孩子,目前在新創永續產業協助客戶規劃未來發展。我是腕錶的鐵粉,早在二十多年前就動用第一筆薪水來投入腕錶收藏。我相信好的設計能推動世界運轉,而作為人類,我們應該做好事、做好人,並照顧彼此和我們居住的環境。
♦♦♦
My approach to collecting watches has always been rooted in the piece's design and functional perspective. In the very beginning, I was drawn towards sports-themed watches, i.e. diving, military or active lifestyle purposes. In the late 1990's and 2000's, when manufacturers started to explore and play with various coatings and eventually alternative materials to make their watch cases black, I found my lasting and permanent collecting principle: "Any color as long as it's black".
Due to my preference for black watches, the time frame of when these watches are produced are most likely in modern/recent times. I have a soft spot for independents because they are the ones pushing the envelope and bringing innovation in design as well as breakthroughs in traditional manufacturing/finishing processes.
我的腕錶收藏向來是以錶款設計和功能為出發點。最初,我深受運動錶吸引,也就是潛水錶、軍錶,或是任何其他運動腕錶。到了1990年代末和2000年代,鐘錶品牌開始開發和運用各種塗層,甚至採用異材質來打造黑色腕錶的時候,我終於發現了我的收藏原則:「只要是黑色的都好」。因為我偏愛黑色的腕錶,而這些腕錶則幾乎都是現代或近期問世的。而由於獨立製錶品牌的挑戰極限,以及在製錶工藝和修飾加工上帶來創新設計與突破,讓我對這些獨立製錶品牌情有獨鍾。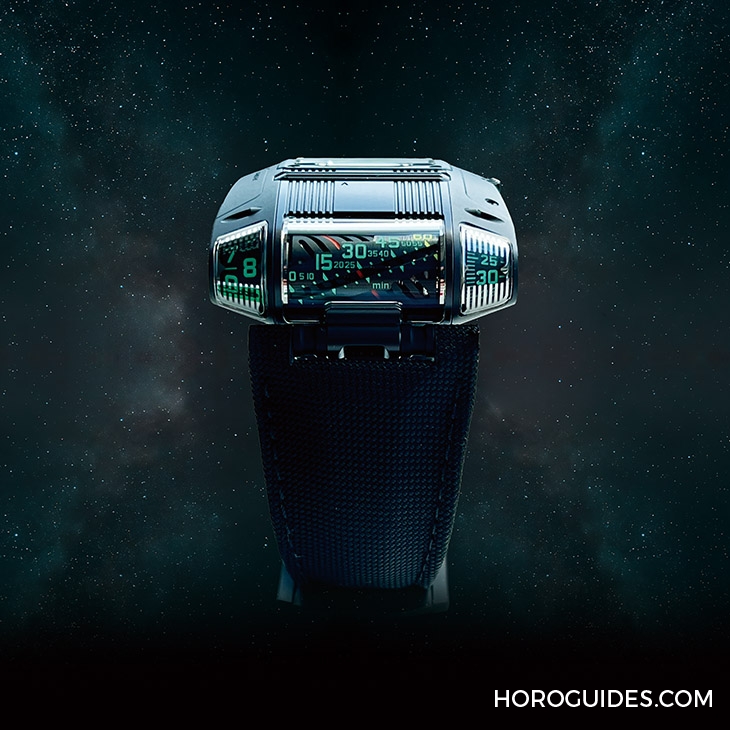 URWERK UR-111 錶徑46x42mm/數位顯時/訂製款
The watch I chose from my humble collection is the Urwerk UR-111 (piece unique) for which I was fortunate enough to have the founders Felix and Martin agree to make for me.
My reason for choosing this particular piece was because of the very fond memories associated with its creation. Having been a fan of Urwerk for a while, my good friend and boss lady of Lavish Attic, Ms. Piano Chow was kind enough to introduce me to the head designer and co-founder Martin Frei in Fall of 2018 and subsequently to watchmaker extraordinaire and co-founder Felix Baumgartner in the Spring of 2019.
我想從腕錶收藏中挑選的腕錶是Urwerk UR-111(訂製款),非常幸運地可以得到創辦人Felix和Martin的同意,為我訂製這款腕錶。
之所以選擇這件特別的作品,是出於與其創作相關的美好回憶。我作為Urwerk的粉絲已有一段時間了,而在2018年的秋季,我的好朋友Lavish Attic的老闆娘Piano Chow女士熱心地向我介紹了Urwerk首席設計師兼聯合創辦人Martin Frei,之後又於2019年的春季再向我介紹了製錶師兼品牌聯合創辦人Felix Baumgartner。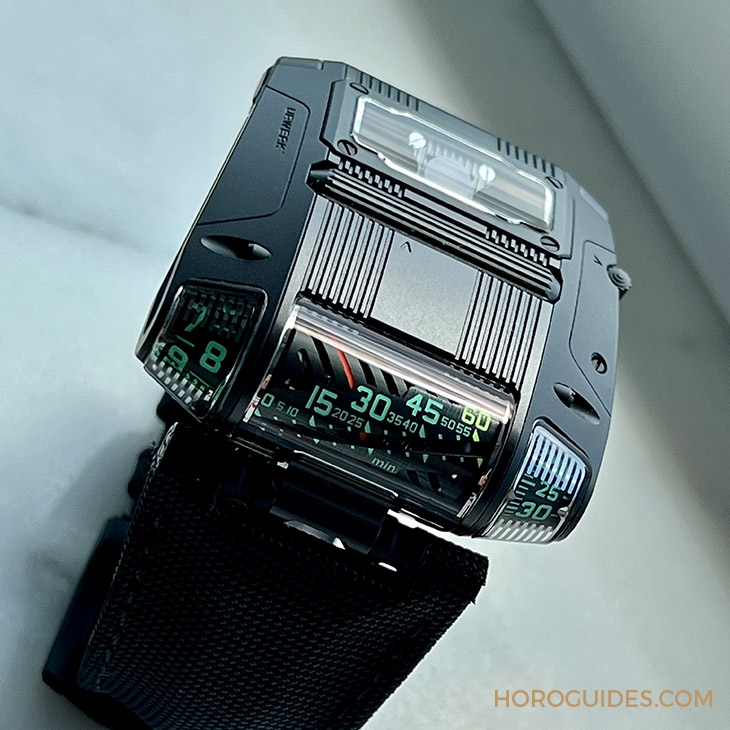 Not only was I very moved and inspired by both their design ethos and origin story, but more so by how personable and humble the two gentlemen were. To me they are giants in the horological world, but they were most patient and kind in sharing their thoughts, ideas, stories, etc., with me over an extended period of time. Both of them explained their perspective and approach for the creation of the UR-111C - Martin from a design standpoint, and Felix from a technical one.
I was enamoured with the UR-111 model and asked if they would consider making me one to match my UR-105CT. They were most kind to have granted my request and this piece holds the very special memory of my friendships with the 3 amazing people who brought me into the world of Urwerk.
我不僅受到他們的設計精神和創業故事所感動和啟發,也對兩位紳士的親和謙遜深感觸動。對我來說,他們都是鐘錶界的巨人,但在這很長的一段時間裡,他們都非常耐心和友善地與我分享他們的想法、構思、故事。他們兩人都向我解釋了創作UR-111C的觀點和方法——Martin從設計的角度,Felix則從技術的角度。我對UR-111相當著迷,並問他們可不可以考慮為我訂製一只來搭配我的UR-105CT。他們爽快地答應了我的要求,因此這只錶記錄了我與這三位了不起的人之間的友誼,也是他們帶領我走進Urwerk的世界。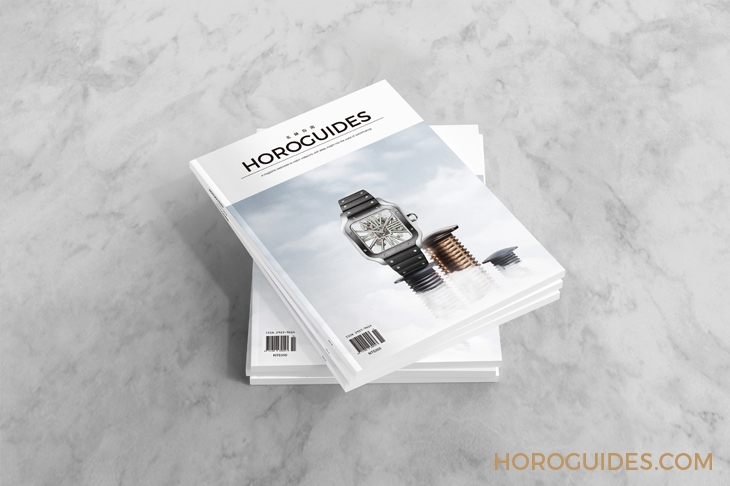 精彩完整內容,敬請閱覽HOROGUIDES Vol.2